Community and Economic Development Department
---
Welcome to the Salt Lake City Community and Economic Development Department (CED)
CED is here to guide and promote the physical and economic development of Salt Lake City. Our goal is to provide leadership, policies and programs that will promote strong, vibrant neighborhoods and communities, and to proactively encourage the positive and orderly growth and development of the City. CED advocates incorporation of the diverse interests of our community to reduce barriers and enhance leadership capacity to continue to improve the quality of life for all who live, work and play here. 
The CED Department is made up of seven divisions: Arts Council, Building Services, Economic Development, Engineering, Housing and Neighborhood Development, Planning and Transportation.  We have a hand in everything from public art to public way improvements.
CED also houses the Civic Engagement Team, whose role it is to help city staff and officials facilitate better involvement and city-to-stakeholder dialogue.
Community and Economic Development Department 2013 Annual Report.
Hot Topics!
---
Enterprise SLC Effort Results in 3-Point Economic Development Pledge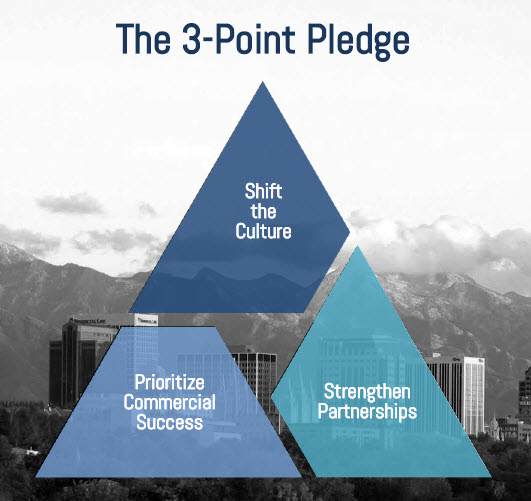 An intensive policy and strategic planning process around the economic development framework for Salt Lake City, entitled Enterprise SLC, was undertaken over the past 18 months. The process involved extensive outreach and meetings with business and community leaders. The Enterprise SLC process resulted in a Vision and Strategy Memorandum, which can be viewed here. 
In response to the Vision and Strategy Memorandum, a
3-Point Economic Development Pledge
was adopted which will; 1) address existing barriers within the organization; 2) support businesses with tools; and 3) foster and reaffirm partnerships with organizations who share our goal to create a Great American City.
---
SLC Mobile is a multi platform solution for providing Salt Lake City residents, businesses, and visitors access to a set of local government-provided services, 24-hours a day, 7 days a week.
SLC Mobile is a free, simple, and intuitive online and smart phone application that enables the residents and visitors of City of Salt Lake City to identify quality of life and environmental issues and report them to the appropriate department for quick resolution. Powered by CitySourced technology, the application uses your smart phone's global positioning system to automatically provide the issue's location, simplifying the reporting process for both you and City staff. Once you have submitted an issue, you track resolution efforts within SLC Mobile or via the web.
---
CED Administration
Mary DeLaMare-Schaefer, Interim Director
Brent Beck, Finance and Administrative Services Director
Galina Urry, Administrative Assistant
801-535-6230
City & County Building
451 South State Street, Room 404
PO Box 145486
Salt Lake City, Utah 84114-5486